Central Florida CCIM Pioneer Created International Legacy Through Innovation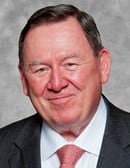 Gary Tharp, CCIM, the iconic Commercial Real Estate Developer, Investor, Coach, Consultant, Trainer, sales and leasing leader, and architect of some of the CCIM Industry's most used tools, passed away on November 1, 2019 after battling lung cancer and congestive heart failure.  He was 78.
There will be a Celebration of Life/Memorial Service for him on November 23rd at 11:00 am at St. David's by-the-Sea Episcopal Church, 600 4th Street South, Cocoa Beach, Florida.
Gary Tharp was a long time member of the CCIM Institute, where he was a respected CCIM Instructor. He was a proud member of the National Association of Realtors. He was President of G T Commercial 1995 to Present. He was a 1960 graduate of Iowa State University where he studied Electrical Engineering.
Tharp lived in Central Florida most of his life.  He lived many years in Longwood and moved to Cocoa Beach in March 2014. Gary was a faithful member of St. David's by-the-Sea and used his gift of singing to bless those that were fortunate to be in the Church.
Gary Tharp has touched thousands of lives in his lifetime, including each and every CCIM in the world.  Gary created the original APOD Excel spreadsheet, with his name printed on the bottom of the spreadsheet as the only compensation he ever received.  On a seldom reviewed tab of the APOD Excel spreadsheet, users would see the following:
"This Template was developed by Gary Tharp, CCIM, for the Commercial Investment Real Estate Institute (CIREI) which holds copyright to the CCIM Business Forms.  The business form template streamlines calculations that can be achieved through the use of a financial calculator."
Former CCIM Technology Instructor Julie LaBelle and Maitland based CRE Broker became very close to Gary Tharp over the years. Just one month ago, LaBelle reached out to CCIMs and others in the commercial real estate industry and asked them to assist Gary and his wife via a GoFundMe drive. The drive quickly raised more than $32,000 for the cause.
LaBelle explains that Gary's lung cancer caught the couple off guard with unexpected diagnosis at a time when expendable funds were low. She did not want Gary and Virginia to worry about meeting deductibles or general cost of treatment but rather to focus on getting the best medical treatment available.
"I started the GoFundMe to give him and his wife the peace of mind that cost was one issue they didn't have to worry about as they braced themselves for battle. I started the Fund because I love him dearly, and it seemed like the only thing I could actually do to help," she added, continuing, "But I also started the Fund to give CCIM's around the world a chance to tell him how much he had impacted their lives, and to show him how important his contribution was before it was too late. His wife of three years, Virginia, read the comments to him while he was in his hospital bed, and while he expressed delight and excitement in the kind and supportive outreach, she was increasingly amazed at what he had done. He had never told her, only mentioned that he had written a 'little spreadsheet'," LaBelle explained.
In addition to his thriving and distinguished career in commercial real estate, Gary was well known for his quick wit, resonant singing voice, and stylish Hawaiian shirts. Gary was a mentor and friend to many.
We extend our heartfelt sympathies to his wife, Virginia, and the entire Tharp family. Father to Pam, Ryan and Grant, beloved "Papa" to Amanda, Kyle, Zhenia and Angelina, and great-grandfather to Evangeline, Abigail, Chase and Roman.
"Gary's warm heart, quick wit, and immeasurable intellect echoes around the world through the Institute and beyond. He will be sadly missed by all – may we all learn to be so giving as this mountain of a man," LaBelle added.