West Coast District Members Work Together to Facilitate $12M Holiday Inn Sale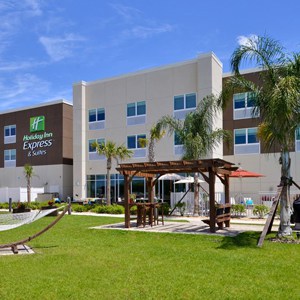 Berkshire Hathaway HomeServices Florida Properties Group announces the sale of the Holiday Inn Express & Suites Trinity, a three-story, 87-room property located at 2125 Corporate Center Drive in the North Tampa Bay community of Trinity. The $12.2 million sales price equates to more than $142,000 per room. This transaction is the highest price per key metrics for a Holiday Inn Express in Florida. The sale closed Jan. 11, 2018.
CCIM West Coast District Members Kim Lohry and Robb Sercu, represented the seller, MPH Hotels, and brokered the sale to Trinity 123, LLC.
"We knew this property had great potential when we first started working on it with MPH back in 2014," Sercu said. "With its lakefront, resort-style facility and business-centric location in the emerging community of Trinity, the Holiday Inn Express & Suites Trinity has been very successful since it opened in 2015, and is well positioned to continue to benefit from Tampa Bay's growing employment and residential bases."
Berkshire Hathaway Home Services Florida Properties Group customer MPH Hotels purchased the property's vacant land in 2014. Along with MPH and Sercu, CCIM West Coast Members Allen Crumbley and Dewey Mitchell, as well as CCIM Renee Dyer and Kim Lohry worked together to secure local investors for hotel construction and ownership.