Florida CCIM Chapter's Southwest District Leader Larson Teaches at Florida Gulf Coast University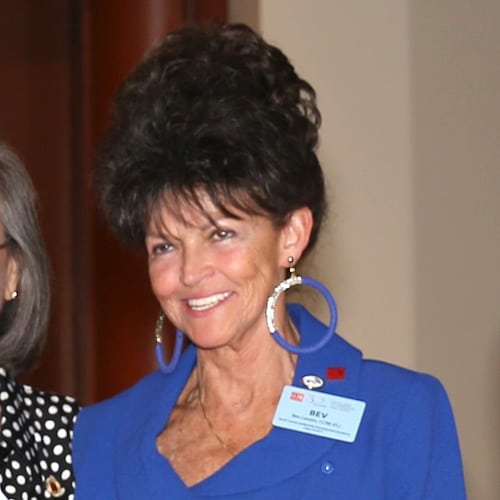 If the topic is the importance of Business Networking & CCIM Designation, you should expect to find Bev Larson nearby.
And so it was recently at Florida Gulf Coast University's Lutgert College of Business. When Dr. Tim Allen, a class instructor with PhD and CCIM designation, a class of roughly 40 students, he made sure that one of Fort Myer's most dedicated Florida CCIM Chapter Members and 2018 Southwest District President was on hand to speak about Business Networking, the CCIM Designation and Volunteering.
Larson is not only a CCIM but holds a host of additional designations and accreditations including ABR, ASR/CSR, CRS, AHWD, BPOR, TRC, SFR, and CIPS. She is a successful agent with Lahaina Realty, located in Fort Myers.  Larson's commitment to her profession and community run deep, including serving as a member and leader of the following:
2015 & 2018 Florida CCIM Chapter Southwest District President
2017 – 2018 CCIM Institute – University Outreach Task Force
2012 – 2018 Florida Realtors Commercial Alliance Committee Member
2012 – 2016 Commercial Committee Chair & Co-Chair, 2017 – 2018 Member – Royal Palm Coast Realtor Association
2017 – 2018 Member & 2016, 2014 & 2011 Commercial Committee Chair – Naples Area Board Of Realtors (NABOR)
2018 – President & Board of Governors – Real Estate Investment Society (REIS)
2009 – 2018 Vice President & Board Member – The Offices at Coconut Point
2017 – 2018 Secretary & Board Member, 2015 – 2016 President EAN – European American Network
2016 – 2018 Citizens Advisory Committee – Lee County Metropolitan Planning Organization
2016 – 2018 NFM Commercial Corridor Revitalization Task Force
2008 – 2018 Gulf Shore Life 5 Star Agent
Member – National Association of Women in Construction (NAWIC)