Florida Realtors PAC Update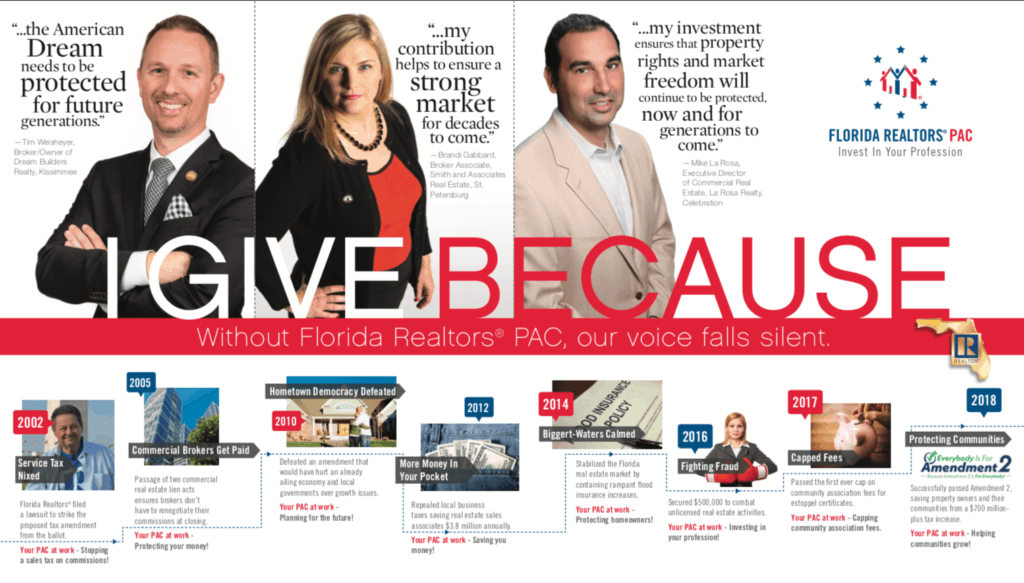 CCIM Fundraising stats to date
Total Members: 192
Total # of Contributors: 48
Participation Rate: 0.25
Total Contributions: $6,691
Total Major Investors: 2
PAC Update:
The first quarter has seen a strong start to the year for PAC fundraising in Florida, with $2.5 million already raised, totaling 62.5% of goal.  Five local boards have already hit their 2019 fundraising goal.
The political activities of the PAC have been so far focused on a few important special election races in the state legislature, as well as dozens of significant local city and county elections that have already taken place.
While the legislative session in Tallahassee continues in full swing, the primary focus of the PAC at this point in the year is fundraising.  Recently, the Realtors Association of Citrus County held their annual chili cookoff and raised over $15,000.  The Central Panhandle Association of Realtors raised more than $11,000 at their annual bowling tournament, and the Tallahassee Board of Realtors raised nearly $10,000 at their Valentine's Day auction.
Statewide RPAC Fundraising Statistics
Raised – $2.5 million (goal $4 million)
Major Investors – 81
Participation – 26.68% (Goal 37%)
PAC Event Calendar       
Be sure to check out the PAC calendar for all the upcoming events.
Calendar: Click here
To add your event please email: pac@floridarealtors.org
Disclaimer: Contributions to RPAC are not deductible for federal income tax purposes. Contributions are voluntary and are used for political purposes. The amounts indicated are merely guidelines and you may contribute more or less than the suggested amounts. The National Association of REALTORS® and its state and local associations will not favor or disadvantage any member because of the amount contributed or a decision not to contribute.  You may refuse to contribute without reprisal. Your contribution is split between National RPAC and the State PAC in your state.  Contact your State Association or PAC for information about the percentages of your contribution provided to National RPAC and to the State PAC.  The National RPAC portion is used to support federal candidates and is charged against your limits under 52 U.S.C. 30116.  Contributions received from corporate entities shall be forwarded to the National Association of Realtors Political Advocacy Fund
William A. Wilson, CFP®, CCIM
Business Development Officer
Florida First Capital Finance Corporation (FFCFC)
Manatee & Sarasota | Port Charlotte | Ft. Myers | Naples | Florida Heartland Counties
239.691.4249 Office | 833.219.8017 Fax
william@ffcfc.com | http://ffcfc.com