Two East Coast District Florida CCIM's Team Up To Sell Shopping Center
Two Florida CCIM Chapter veterans, Jeffrey D. Chamberlin, CCIM, SIOR of SLC Commercial and Stuart Duffin, CCIM of NAI Southcoast, along with Cooper Osteen of SLC Commercial, teamed up together recently to complete the sale of the 49,954 square foot Mayfair Plaza on US1 in Downtown Stuart.  Mayfair Plaza is one of the original shopping centers in Stuart, originally anchored by A&P grocery.  The center is currently anchored by Ace Hardware, and many other established local retail and office businesses.
The center sold in February of 2020 for $5,250,000, representing a sale price of $105 per square foot.  Seacoast Bank had vacated the anchor space of 21,000 square feet in 2019, making this purchase a value add opportunity.
Chamberlin represented the Seller, whose family had built the shopping center in 1962 and had been its only owner.  Duffin represented the Buyer, a New York based group with local ties, who plans to re-tenant the anchor space and make significant improvements to the center.  NAI Southcoast is currently handling the leasing and management of the center.
SLC Commercial and NAI Southcoast are both longstanding firms serving the Treasure Coast market, and each have multiple CCIM's within their ranks.  Both firms actively encourage their team members to pursue the CCIM education and designation.
"The familiarity and trust of knowing that the other agent involved in the transaction is also a CCIM helps dramatically lower the barriers to successfully completing a transaction", said Chamberlin. "The fact that we speak the same investment real estate 'language' is a huge plus", he added. "It also helped knowing that Duffin wouldn't be working with a buyer that wasn't qualified or didn't have the capacity to make this type of purchase", said Chamberlin.
The CCIM designation is recognized by commercial real estate professionals as the premier designation in the industry and held by only 9% of active commercial real estate professionals worldwide.  CCIM candidates must complete a challenging multi-course curriculum in Financial, Investment, & Market Analysis of commercial real estate as well as submit a comprehensive portfolio of closed real estate transactions for qualification. The CCIM membership gives their designees access to the premier networking, education and technology resources in the industry. They are a part of the rapidly growing CCIM network, with close to 20,000 members in more than 1,000 marketplaces and 30 countries worldwide.
Contact:
Jeffrey D. Chamberlin, CCIM
SLC Commercial
P.O. Box 3
Stuart, FL  34995
Office (772) 220-4096
Stuart Duffin, CCIM
NAI Southcoast
P.O. Box 3059
Stuart, FL 34995
Office (772) 286-6292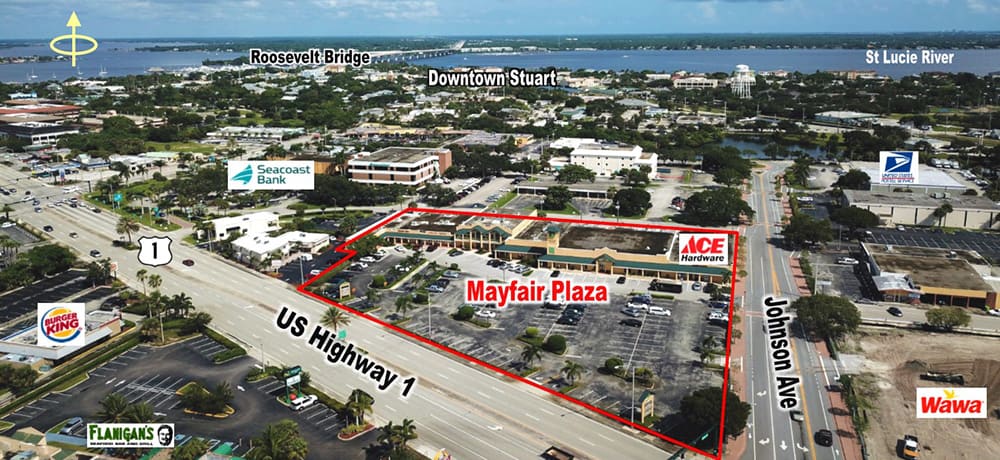 Traducción en español esta disponible:
Dos Equipos del Distrito de la Costa Este de Florida CCIM se Unen Para Vender un Centro Comercial
Dos veteranos del Capítulo CCIM de Florida, Jeffrey D. Chamberlin, CCIM, SIOR de SLC Commercial y Stuart Duffin, CCIM de NAI Southcoast, junto con Cooper Osteen de SLC Commercial, se unieron recientemente para completar la venta del Mayfair Plaza de 49,954 pies cuadrados en US1 en el centro de Stuart. Mayfair Plaza es uno de los centros comerciales originales de Stuart, originalmente anclado por A&P Grocery. El centro está actualmente anclado por Ace Hardware y muchos otros negocios minoristas y de oficinas locales establecidos.
El centro se vendió en febrero de 2020 por $5,250,000, lo que representa un precio de venta de $105 por pie cuadrado. Seacoast Bank había desocupado el espacio de anclaje de 21,000 pies cuadrados en 2019, haciendo de esta compra una oportunidad de valor agregado.
Chamberlin representó al Vendedor, cuya familia había construido el centro comercial en 1962 y había sido su único propietario. Duffin representó al Comprador, un grupo de Nueva York con vínculos locales, que planea volver a alquilar el espacio de anclaje y realizar mejoras significativas en el centro. NAI Southcoast se encarga actualmente del arrendamiento y la gestión del centro.
SLC Commercial y NAI Southcoast son firmas que prestan servicios en el mercado de Treasure Coast, y cada una tiene múltiples CCIM dentro de sus filas. Ambas firmas animan activamente a los miembros de su equipo a seguir la educación y designación de CCIM.
"La familiaridad y la confianza de saber que el otro agente involucrado en la transacción también es un CCIM ayuda a reducir drásticamente las barreras para completar con éxito una transacción", dijo Chamberlin. "El hecho de que hablemos el mismo 'lenguaje' inmobiliario de inversión es una gran ventaja," agregó. "También ayudó saber que Duffin no estaría trabajando con un comprador que no estaba calificado o que no tenía la capacidad de hacer este tipo de compra," dijo Chamberlin.
La designación de CCIM es reconocida por los profesionales de bienes raíces comerciales como la principal designación en la industria y solo la posee el 9% de los profesionales activos de bienes raíces comerciales en todo el mundo. Los candidatos de CCIM deben completar un currículum desafiante de varios cursos en Análisis financiero, de inversión y de mercado de bienes raíces comerciales, así como también presentar una cartera integral de transacciones inmobiliarias cerradas para su calificación. La membresía de CCIM brinda a sus designados acceso a los principales recursos de redes, educación y tecnología de la industria. Forman parte de la red de rápido crecimiento de CCIM, con cerca de 20,000 miembros en más de 1,000 mercados y 30 países en todo el mundo. Contacto:
Jeffrey D. Chamberlin, CCIM
SLC Commercial
P.O. Box 3
Stuart, FL 34995
Oficina (772) 220-4096
Stuart Duffin, CCIM
NAI Southcoast
P.O. Box 3059
Stuart, FL 34995
Oficina (772) 286-6292