Florida Fastest-Growing State for First Time Since 1957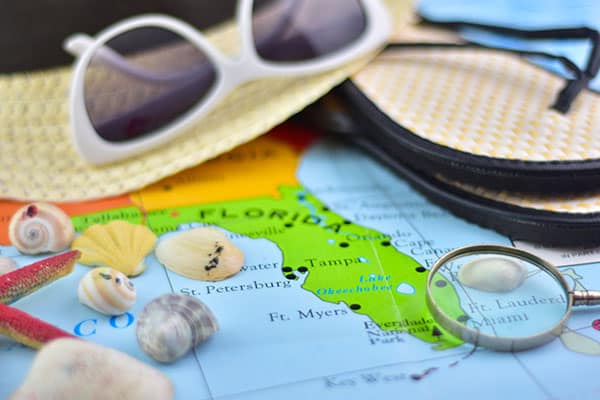 New Florida Estimates Show Nation's Third-Largest State Reaching Historic Milestone
Source: https://www.census.gov/newsroom/press-releases/2022/2022-population-estimates.html
After a historically low rate of change between 2020 and 2021, the U.S. resident population increased by 0.4%, or 1,256,003, to 333,287,557 in 2022.
Florida was the fastest-growing state in 2022, with an annual population increase of 1.9%, resulting in a total resident population of 22,244,823.
"While Florida has often been among the largest-gaining states," said Kristie Wilder, a demographer in the Population Division at the Census Bureau "this was the first time since 1957 that Florida has been the state with the largest percent increase in population."
It was also the second largest-gaining state behind Texas, with an increase of 416,754 residents. Net migration was the largest contributing component of change to Florida's growth, adding 444,484 residents.
Florida Population Change
Year
Population
Annual Change
Per Day
2020
21,589,602
2021
21,828,069
238,467
2022
22,244,823
416,754
1,142
After decades of rapid population increase, Florida now is the nation's fastest-growing state for the first time since 1957, according to the U.S. Census Bureau's Vintage 2022 population estimates released today.
Florida's population increased by 1.9% to 22,244,823 between 2021 and 2022, surpassing Idaho, the previous year's fastest-growing state.
Florida's percentage gains since 1946 have been impressive: its 2022 population is just over 9 times its 1946 population of 2,440,000.
For the third most-populous state to also be the fastest growing is notable because it requires significant population gains.
Florida a Consistent Top Gainer
In the post-World War II era after 1946, Florida's percentage increase in population each year has fluctuated but has always been positive (Figure 1).
In the 1950s, as air conditioning became more prevalent in warmer parts of the United States, Florida's annual population growth averaged 6.1% (Table 1). It hit 8% in both 1956 and 1957, near the peak of the baby boom, marking the last time Florida was the fastest-growing state — until now.
During that decade, Florida's growth far outpaced the national rate, which was between 1.5% and 2% each year that decade. An annual population growth of 8% is exceptionally rapid and translates to a population doubling roughly every nine years.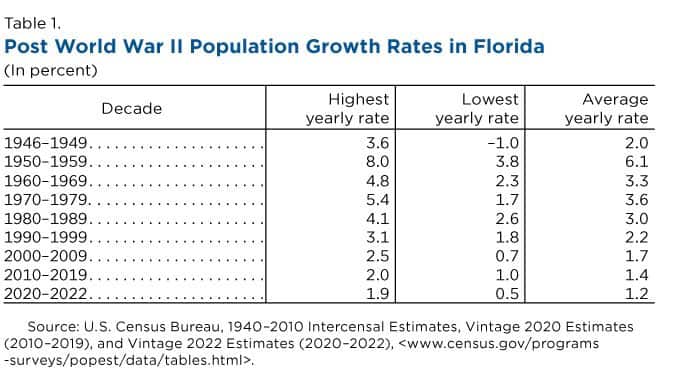 Florida Grew Even When U.S. Population Increase Slowed
The baby boom (1946-64) came to an end in the 1960s and Florida's extraordinary growth during the 1950s slowed. However, "slowed" is a bit of a misnomer since, between 1960 and 1989, Florida's average annual growth remained over 3.0%. Generally, The Sunshine State's population grew at a rate about double the national average.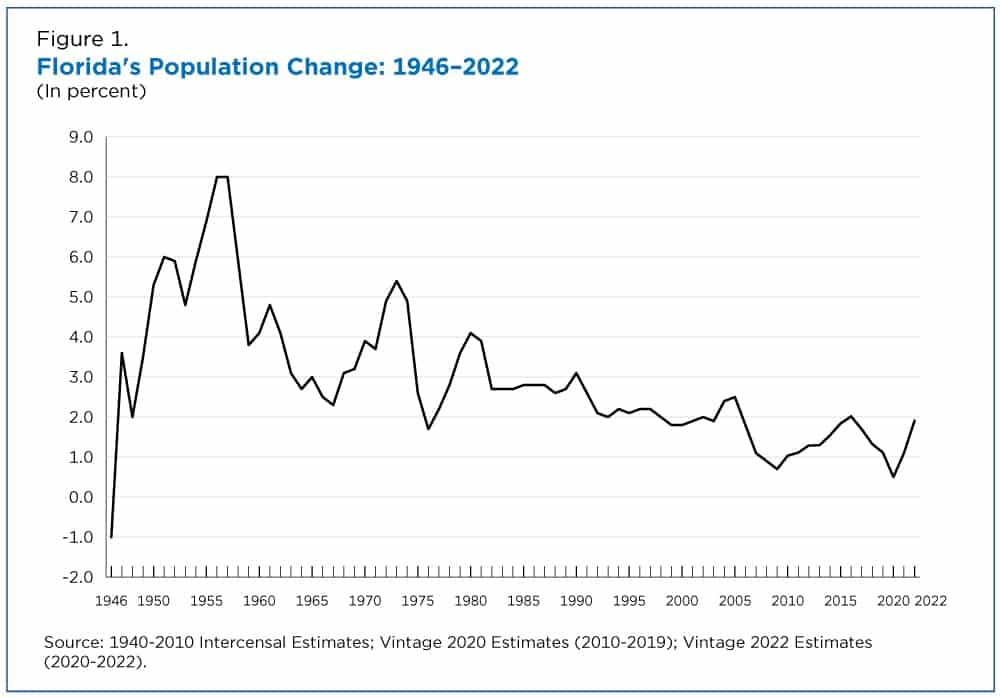 In the 2000s, the slowing trend continued with Florida averaging an annual growth of 1.7%. While this might seem slow compared to Florida's growth in prior years, it is still a brisk pace. During the same period, the national growth hovered around 1.0% a year.
That trend has continued since 2010. Between 2010 and 2020, national growth dipped from 0.9% to 0.5% each year while Florida's increases ranged from 1.0% to 2.0%. In 2022, Florida's growth was nearing that previous decade high at 1.9%, not high compared to past gains but still the fastest among the states. Interestingly, Florida had the second-largest numeric gains behind Texas.
Vintage 2022 population estimates scheduled for release over the next few months will shed light on which areas and demographic groups contributed to the state's growth.
About CCIM
"CCIM stands for Certified Commercial Investment Member. For more than 50 years, CCIMs have been recognized as leading experts in commercial investment real estate. The CCIM lapel pin denotes that the wearer has completed advanced coursework in financial and market analysis, and demonstrated extensive experience in the commercial real estate industry."