Florida CCIM Chapter Asks for Help in Pushing Campaign PowerAide Over Finish Line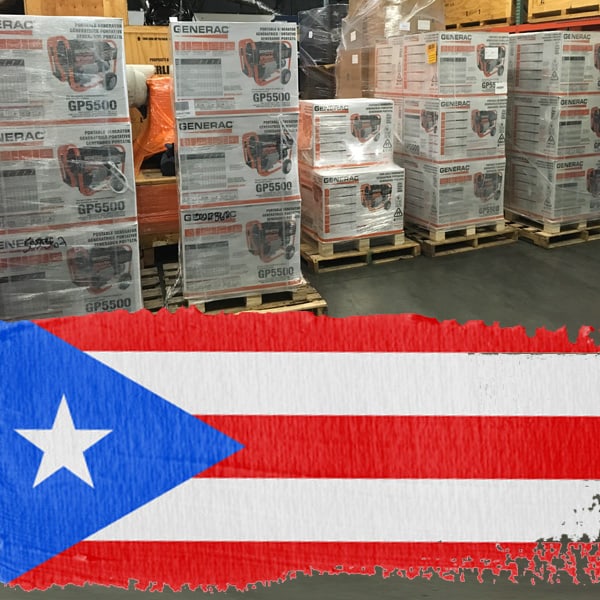 Bolstered by CCIM Institute generosity, the Florida CCIM Chapter is pushing for a successful fundraising finish in their "Operation PowerAide" efforts to assist fellow CCIMs in Puerto Rico.
Just days after Hurricane Maria left the U.S. territory devastated and residents in peril, Florida CCIM Chapter members kicked a relief campaign to their fellow commercial real estate professionals who live in Puerto Rico. Being shipped are pallets of equipment to assist CCIM Chapter members in their recovery. The shipment includes 27 generators, as well as fuel stabilizer, oil, gloves, flashlight, batteries, chain, padlock and rope.
Florida Chapter launched "Operation PowerAide" to assist fellow Puerto Rico CCIMs on September 23. Just 10 days into the campaign, more than two-third of the funds needed have been pledged or donated. Beginning with total fundraising goal of $30,000, Florida Chapter leadership were overwhelmed when CCIM Institute 2017 President Robin Webb announced a $15,000 contribution to the PowerAide efforts.
"On behalf of the Management Team of the CCIM Institute, it is my honor to advise you that the Institute will make a $15,000 contribution to the emergency relief fund for Puerto Rico. Thank you for your commitment to this huge humanitarian effort on behalf of our fellow CCIMs," Webb said in the announcement.
Additional contributions to the effort's GoFundMe account has raised more than $10,500 of the remaining $15,000 goal, shared 2017 Florida CCIM Chapter President Scott Lloyd. "We can't thank Robin Webb, Dave Wilson, Barbara Crane and all the Institute leadership enough for their uplifting support," Lloyd said. "With this contribution — along with the support of our Florida Chapter Districts and dedicated members — we now see our goal in sight."
Lloyd is calling for chapter members to help the chapter complete the operation's fundraising this week. "We are heartened by the donations to date and we are almost over the finish line. A donation from you or your business associates in any amount will be greatly appreciated. The goal is to get these vital items to our members and quickly as possible. Please help us," he added.
Working with Lloyd on PowerAide is Chere Roane, CCIM, District 8 CCIM Institute 2017 Regional Vice President. Roane, the chapter's immediate past president, echoed Lloyd's request for help. "All help is appreciated – if we get the commercial team up and running with the help of this equipment, that will open warehouses and increase the flow of the supplies and the needed distribution to the people on the island," Roane explained.
Luis Rafael González, Puerto Rico's CCIM Chapter President, assures that the generators will help recovery efforts. "As the PR Chapter president I'm both humbled and grateful for your incredible efforts. Never before have I felt prouder to be part of this amazing institution, shared González.
"This has been one of the toughest if not the toughest time Puerto Rico has had to endure. Your support definitely makes all the difference. Make no mistake, we will rise from this stronger than ever and we'll never forget this incredible gesture," González added.
Help now: https://www.gofundme.com/relief-poweraide-for-puerto-rico