What's the Secret to this Young Designee's Zest for Life? Even Institute Leaders Want to Know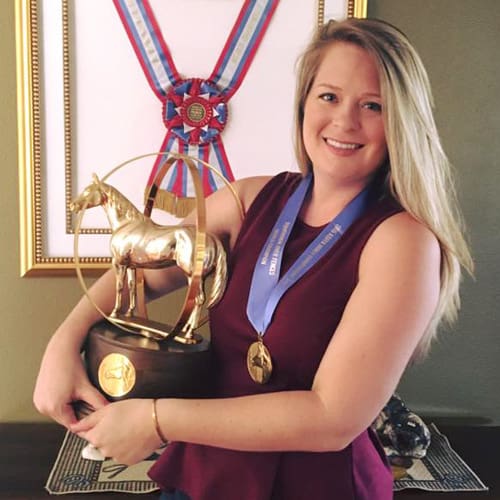 Looking for a Florida Chapter CCIM to inspire you? Want to meet an accomplished designee who takes on challenges on a world-class level? Want to be surprised about how much one person can do? That is easy — meet Britney Mroczkowski!
The CCIM Institute, who wanted her to share the recipe to her success, recently interviewed this 28-year-old powerhouse. The resulting interview should be insightful. Consider that in less than three decades this Tampa Bay-area native has accomplished the following:
World Traveler – having already visited 27 countries, including traveling to Cuba solo earlier this year and showing few signs of slowing down;
Awarded CCIM Designation in 2015 while 26 years old after taking CCIM core classes on-line;
Serving as 2017 President of the Florida CCIM Chapter's West Coast District;
Former Competitive Equestrian, from 1998 to 2008 that resulted in earning National Champion, High Point Equestrian in Hunter Hack for the American Quarter Horse Youth Association, 2007 and World Champion Equestrian in Equitation Over Fences at the American Quarter Horse Youth Association World Championship Show, 2005;
Service in Student Senate while attending Florida State University including stint as Treasurer as well as a host of other positions;
Successful Commercial Associate with Colliers International Tampa Bay Florida since 2012.
Britney has earned the respect of her fellow CCIMs, with her West Coast leadership team proud to call her one of their own: "I've known Britney for about four years and had the pleasure of assisting her as president-elect of the West Coast District in 2017," shares West Coast District Leader Dee Maret. "She has been a great leader for us. She is thoughtful in her decision-making but decisive at the same time. She's not afraid to make the hard call. She is a great friend."
Maret goes on to add "I'm really proud of all she has accomplished in commercial real estate and if I were an owner or investor, then I'd want her by my side. But frankly, she'd be ultra-successful in any career she chose. She's just really business-savvy and cares about people."
Britney joined Colliers International Tampa Bay Florida in 2012. She worked on the marketing side of commercial real estate for two years before transitioning into retail brokerage.
She works on a team with her mentor, Lisa McCaffrey, who has been in the industry since 1994. Together they specialize in Landlord Representation of neighborhood, community and power center leasing. The team has an inventory of shopping centers in excess of 1,800,000 square feet. Their clients include LaSalle Investment Management, Deutsche Asset & Wealth Management (fka RREEF), Invesco, Bentall Kennedy, Aegon, Westwood Financial and BVT. Britney also specializes in commercial land sales across Florida with her partner Mark Eilers who has more than 23 years of experience.
Even her father, Mark Mroczkowski, does quite know what his daughter's secret formula comes from – who admits he is in awe of his daughter's drive. "She is like the energizer bunny, she never runs out of energy. To say she is driven is an understatement," shares the Vice President and CFO at Florida Polytechnic University. "Britney is also a great networker. I wish I was as good at networking as she is. Where does she get her passion for commercial real estate? I am not sure. She is just full of surprises," he adds.
Jumping right into service seems to be a common element to this young woman's success. "Brittany was the ideal New Designee…she immediately got involved and her enthusiasm and leadership capabilities enabled her to quickly rise up the ranks of the West Coast District board to, ultimately, become President. She has done a great job in the role and is a pleasure to work with," adds Yakhin Israel, Past President of the West Coast District.
Florida 2017 CCIM Chapter President Scott Lloyd agrees that this dedicated CCIM reflects the designation's best, both now and in years to come. "In an industry full of big and loud personalities, Britney projects a calm, powerful focus beyond her years, regardless of the issue," Lloyd shares. "It's been a blast getting to know Britney and I have the utmost respect for her ethical compass, passion, relentless drive and business expertise. Britney is full of surprises and I look forward to following her future adventures," he adds.