Florida Chapter Members CCIM Earns Prestigious CCIM Designation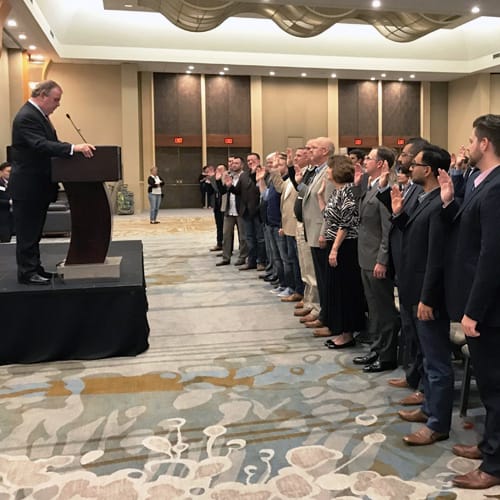 Eight members of the Florida Chapter have earned the prestigious CCIM designation through their experience and professional education.
The group was honored at the pinning ceremony at The CCIM Global Commercial Real Estate Conference held in Toronto, Oct. 15-16, 2017 and afterwards at a special dinner in their honor hosted by the Florida Chapter Leadership.
The Newest CCIM Designees that join their Florida CCIM Chapter members in wearing the Pin are:
Andrew Bauman, with Century 21 Sunbelt Realty, Fort Myers, a Southwest District Member
Andrew Green, with Colliers International, Fort Myers,  a Southwest District Member
James Hollington, with Hollington Properties, Tampa, a West Coast District Member
Cody Keller, with PriceWaterhouseCoopers LL, Tampa, a West Coast District Member
Jack Koehler, with Eshenbaugh Land Company, Tampa, a West Coast District Member
Artem Nashman, with LandQwest, Fort Myers, a Southwest District Member
Peter Wilkins, with PriceWaterhouseCoopers, Tampa, a West Coast District Member
Pamela Wittenauer, with REMAX Realty Group, Fort Myers, a Southwest District Member
"These very accomplished professionals have put blood, sweat and tears into obtaining the CCIM designation and it is a pleasure to hear their stories and how the journey has added value to their careers and personal lives," shares 2017 Florida CCIM Chapter President Scott Lloyd. "This is a stellar group of new CCIMs and we can all be proud of the caliber of professionals we've added to our ranks," Lloyd adds.
To earn the prestigious CCIM designation, commercial real estate professionals must complete more than 160 hours of case-study driven education covering topics such as interest-based negotiation, financial analysis, market analysis, user decision analysis, investment analysis, and ethics for commercial investment real estate. Candidates must also compile a portfolio demonstrating the depth of their commercial real estate experience and pass a comprehensive examination.
"Earning the CCIM designation occurs only after a long and arduous journey, which does not end with the pinning," says 2017 CCIM Institute President Robin L. Webb, CCIM.

"It is the beginning of a new and expanded career journey for our new designees which will change their professional lives forever," added Webb, also a proud Florida Chapter Member.