Henry Rogers, CCIM Feature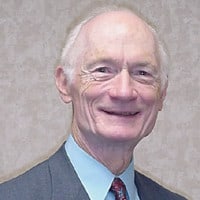 Henry Rogers, CCIM has many sides of his life: high adventure, the arts, and working over 60 years in real estate.
"No, I'm afraid it might be my head being shrunk,"
was the answer he gave to his travel agent's suggestion of attending a Jivaro Indian head shrinking ceremony while exploring the Amazon jungles of Quito, Ecuador. His forthright and humorous perspective of life's opportunities characterize the curiously fun personality of a man whose goal was to live on the "wild side."
In 1954, in his senior year majoring in physics at Harvard, he had made a pack with a friend to "suck the marrow out of life" by taking on potentially dangerous adventures no matter the life threatening possibilities. A kind of "do or die" mentality. Yet today, at age 85, Jacksonville native Henry Rogers, CCIM, ALC, is still here to tell his many tales.
Henry had to deal with type 1 diabetes, but it did not seem to slow him down. Very depressed and already feeling like his life was over, Rogers didn't know and didn't care if he would make it. "I was determined to see if I could live life on my terms with severe diabetes no matter what," he explained.
Rogers had graduated with a bachelor of science degree, and had served two years in the U.S. Navy as a combat information center officer on the USS Wiltsie (DD-716) destroyer operating in Japan and Korea with the main purpose of protecting Korea. He had just accepted a job offer with an engineering firm in northeastern Iraq to act as a liaison agent for a dam being but it was then that diabetes was diagnosed so he could not work in Iraq. Instead, he joined his older brother's real estate firm, Mullikin and Rogers Incorporated, the beginning of a career in commercial real estate that is still going strong now 60 years later.
Among Rogers' many adventures was getting a machine gun pointed at his stomach while five body guards surrounded him in an airport terminal on the way to Venezuela. They were Dictator Perez Jimenez's bodyguards who were entering as he left the gate. It was all quite innocent on Roger's part. In anticipation of showing his passport to the clerk, Rogers happened to pull his hand out of his internal coat pocket in such a way that it must have appeared to the guards that he was retrieving a gun from a shoulder holster.
Again, Rogers had another close-call when he decided to forego the Machu Picchu tour and climb the tall mountain behind the famed area by himself, finding when he reached the top, he couldn't get back down. Finally, he painstakingly crossed some worn-away logs stretched across a huge gap, barely making it. Dinner that night was especially delicious, as was the now, renewed gratefulness at just being alive. When he eventually returned home to Jacksonville, psychologically, the South American trip was a curing medicine that taught him he not only could travel, but could function in almost any capacity. There would be many other adventures, but sixty years later,
"I still think back with joy of taking that trip, the most meaningful of my vacations," said Rogers.
Rogers would also meet many interesting folks in such differing environments as posh hotels and south Florida wetlands, usually representing the sellers of commercial real estate. Raised in the Avondale area, a graduate of Robert E. Lee High School who was voted most outstanding student, Henry is the youngest of four kids, with all three boys and their father being Harvard alumni.
"My parents were very involved in the Jacksonville community and enjoyed hosting many lavish affairs, but dad never forgot his roots, teaching us kids to always be honest."
As a CCIM (certified commercial investment member of realtors) Rogers was most recently named Florida Land Realtor of the Year in 2014, and has been a past Jacksonville Association of Realtors (now NEFAR) president, and Northeast Florida CCIM district vice president, to name a few of his accomplishments
Rogers work focuses on exchanging, farms and ranches, land and assemblage, and timberland, along with commercial investments. Early in his career, he was also a real estate flipper before it became a popular "get-rich-quick" venture. When the Interstate-95 expressway to downtown was being built, he bought a bunch of properties set to be demolished on Clay and Union streets, had them moved to vacant land he bought near Tallyrand Avenue, fixed them up and sold them.
Rogers' biggest sale was for 43,500 acres in the "green swamp," half-way between Tampa and Orlando, in 1977. When Rogers drove out to talk with the potential buyer, he also initially refused, but as Rogers walked away, he agreed to go with $12,600,000 and a contract was signed.
"Doing business in person is usually the only way to push people to make a decision," said Rogers.
Just like his dad, Rogers has been active in the local community throughout his life trying to make it a better place for everyone. He has served diverse groups such as: Northeast Florida Health Services Commission, The Duval County Mental Health, Jacksonville Historical Society, the Harvard Club of Jacksonville, the Gateway Residence, the Civic Roundtable .
Rogers is also a part of Jacksonville's Nutcracker Ballet tradition, having performed 41 consecutive years including the 2017 season. The first rehearsal I went to, a gorgeous, sweet blonde came up to me and said, 'I am your partner.' I immediately thought, 'Where in the hell had I been and why not here?'" Rogers also played a part in local politics elected twice as a democrat to the Jacksonville Civil Service Board and the Fourth Judicial Circuit Grievance Committee.
For most of his life, Henry has been haunted by the last two stanzas of one of his favorite poems, Eldorado by Edgar Allan Poe. The words express his eternal quest for more:
"And, as his strength
Failed him at length,
He met a pilgrim shadow-
"Shadow," said he,
"Where can it be-
This land of Eldorado?"
"Over the Mountains
Of the Moon,
Down the Valley of the Shadow,
Ride, boldly ride,"
The shade replied-
"If you seek for Eldorado!"
"At age 85, I feel I am still seeking for something elusive and unknown, but will never find," said Rogers.
Words from a distinctive person with an eternally young and open heart, always seeking the next wild experience.