Creative Village Moves Forward in Downtown Orlando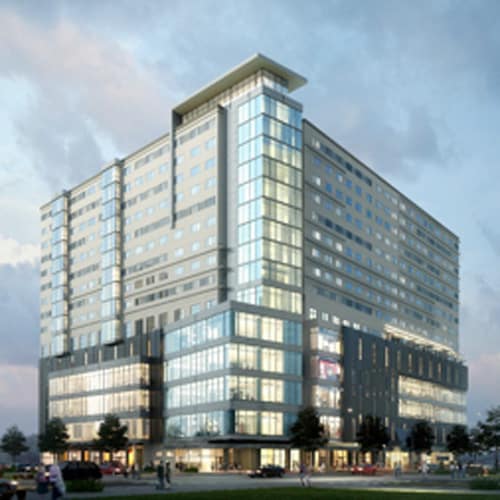 In Orlando, Craig Ustler, MAI, CCIM, is leading the development team for Creative Village. The master redevelopment project is under construction and will be home to the UCF/Valencia College Downtown Campus. Creative Village builds upon the success of Orlando's digital media industry by transforming the former Amway Arena site into a 68-acre mixed-use, transit oriented, urban infill neighborhood in the heart of downtown Orlando.
The vision for Creative Village focuses on creating a true "live, work, learn, and play" urban destination through a development plan that supports a synergistic and dynamic mix of uses including office/creative studios, higher education, PS-8 education, mixed-income residential, retail/commercial and hotel. Leading higher education providers; high-tech, digital media and creative companies; and a diverse mix of students, employees and residents will one day call Creative Village home.
Creative Village is a public/private partnership between the City of Orlando and the Master Developer, Creative Village Development, LLC (CVD). The CVD entity is a joint venture between Banc of America Community Development Corporation (BACDC) and a local team led by Craig Ustler with development partners Tim Baker and Brooke Myers. Vertical development partners include the University of Central Florida, Valencia College, DEVEN Development Ventures Group (formerly KUD International) and Atlantic Housing Partners.
When complete, this high-quality, sustainable neighborhood development will represent a mix of uses including up to 1,200,000 square feet of office/creative space, 750,000 square feet of higher education space, 1,500 residential units, 1,200 student housing beds, 150,000 square feet of re- tail/commercial space and 225 hotel rooms. At build-out, Creative Village encompasses well over $1 billion in new development.
Centered around education and transit, Creative Village will be the largest transit oriented development project in Central Florida, significantly expanding education opportunities in Downtown Orlando. Creative Village's proximity to SunRail and LYNX Central Station provide improved regional access to jobs, education, social services, government facilities, entertainment, civic and cultural assets and many other opportunities.
The initial phase of infrastructure development is complete. Vertical construction on multiple buildings began in 2017 with at least seven new projects scheduled to open between 2017 and 2020, representing $447 million in vertical development and $522 million in total Phase I invest- ment. The University of Central Florida, in partnership with Valencia College, will create a best-in-the-nation campus for digital media, communication, public services and culinary and hospitality at Creative Village. The first phase will serve 8,000 students/faculty/staff on a new campus in Downtown Orlando opening in August 2019. Long-term plans include 10,000 to 15,000 students. Phase I development is currently under construction and includes:
148,000 square foot UCF/Valencia academic building – Phillips Academic Commons
Renovation of the 115,000 square foot UCF Center for Emerging Media building
600-space UCF parking garage with campus store and café
600-bed student housing development by Ustler/DEVEN with UCF student support ser- vices, Valencia College's hospitality and culinary arts programs, 600-space parking garage and ground floor retail
256-unit mixed-income apartment community by Atlantic Housing/BACDC
300± unit market rate apartment project
New Orange County Public School PS-8 (opened in August 2017)
Renovated Marriott Hotel with 299 rooms (opened in December 2017)
As a part of Phase I, Ustler Develop- ment, Inc. and DEVEN are developing the Creative Village Student Housing Project. The $105 million 15-story project includes approximately 600 purpose-built student housing beds, 105,000 square feet of education and support space for UCF and Valencia, 12,000 square feet of ground floor commercial space and a 600-space in- tegrated parking garage. The student housing project is under construction and will open in August of 2019.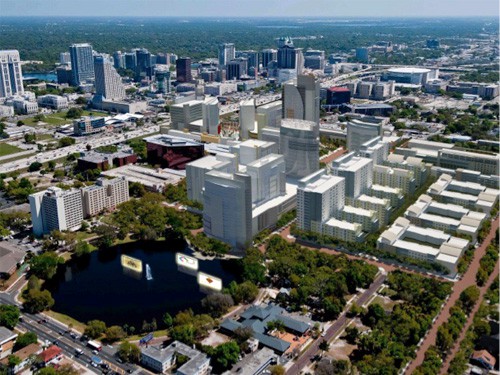 Creative Village Conceptual Vertical Development Program