Two CCIMs Participate in Downtown Tally Sale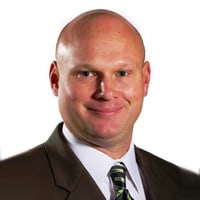 The Naumann Group has successfully sold the remaining 16,000 SF of the 36,000 SF commercial space in the Plaza Tower, downtown Tallahassee.
The subject property, known as The Plaza in Downtown, Tallahassee, Florida 32301 is located at 300 South Duval Street. The Sale from ULLICO to Florida State University. The property is located directly behind the Florida State Capitol Building. All commercial space is 100% occupied.
"We are excited to feed and serve Tallahassee's finest- FSU football fans, downtown residents and visitors along with the Florida Legislature" reports Mike Schmidt, Owner of The Egg Eatery and Cafe, opening August 2018.
The sale was "AS IS" for unfinished commercial condo street level space. Deal was over $1 million.
Two high profile members of the Florida CCIM Chapter — Brian Messer, CCIM representing Seller and Chip Hartung, CCIM representing Buyer – negotiated for their clients on this transaction.
Messer served as the Florida Panhandle District Chapter President from 2015-20016. He has been responsible for successfully negotiating over $100 million in real estate transaction and recently sold 250,000 square feet of manufacturing/warehouse space in Gadsden county and 550 acres of pine/timber land in Ft. Walton county.
Brian is a member of CCIM, the Florida Board of Realtors, and the Tallahassee Chamber of Commerce.
Hartung has been active in real estate in Tallahassee for over 35 years. He began his professional real estate career in 1974 as a real estate salesman. In 1979, he formed his own company, Hartung and Associates, which became a Coldwell Banker affiliate in 1981. During this period, he distinguished himself and his office by consistently being recognized as one of the leading real estate companies in the Tallahassee area.
Presently, he directs all commercial sales, leasing and management activities of Coldwell Banker Commercial Hartung and Noblin Inc. In this capacity, he has represented many clients, national, regional and local including Direct TV, Manpower, United Health, Fed Ex Ground, Second Harvest, State Farm Insurance, Allstate, Northwestern Mutual, Holland and Knight, Cisco, Georgia Pacific, Sprint and Unisys. He has been directly involved in the property management of over one million square feet of commercial property, including receivership properties of the FDIC and other lenders.
Hartung is a past President of the Tallahassee Board of Realtors, a former District Vice-President of the Florida Association of Realtors and past President of BOMA, Building Owners and Management Association of Tallahassee.