McDow Closes Farm Land Sale in Suwannee County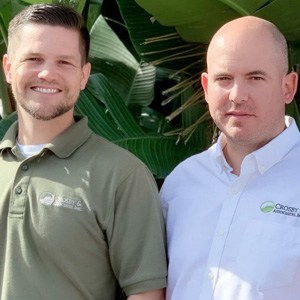 Crosby & Associates, Inc. announced today the recent sale of 1,718 acres of irrigated farm land in Suwannee County, FL. The $9,690,000 deal was facilitated by a two-person land specialist team with a growing reputation for closing large land transactions with ease, Vice Presidents Caleb McDow, ALC, CCIM and Trevor C. Williams, MA.
McDow had this to say about the sale, "It was the perfect way to cap off a great year in sales and provide strong momentum for Crosby & Associates going into 2019."
The sale capped off a banner year for the land duo. Specializing in farmland and ranches throughout Florida and Georgia, McDow and Williams completed over $21,000,000 in land transactions this year, including a 1,495-acre dairy farm in Arcadia, FL, two 20+ acre development properties in Apopka, FL, and a 123-acre industrial property in Lakeland, FL. The team employs a targeted geographic strategy that aligns with their unique expertise. Williams focuses more on ranches in the central and southern part of the state, whereas McDow focuses more on farms in the north.
"We've taken the 'divide and conquer' concept quite literally and it has allowed us to use our individual expertise to serve clients well in all areas and land types," Williams said.
Individuals or organizations interested in the purchase/sale of land should contact:
Caleb McDow at 352-365-6648 caleb@crosbydirt.com
Trevor C. Williams at 863-289-7222 trevor@crosbydirt.com