Invest in RPAC
RPAC Ensures a Strong Market and Supports Commercial REALTORS®
INVEST IN RPAC
NOTE: You must be an NAR member (with an NRDS number) to donate.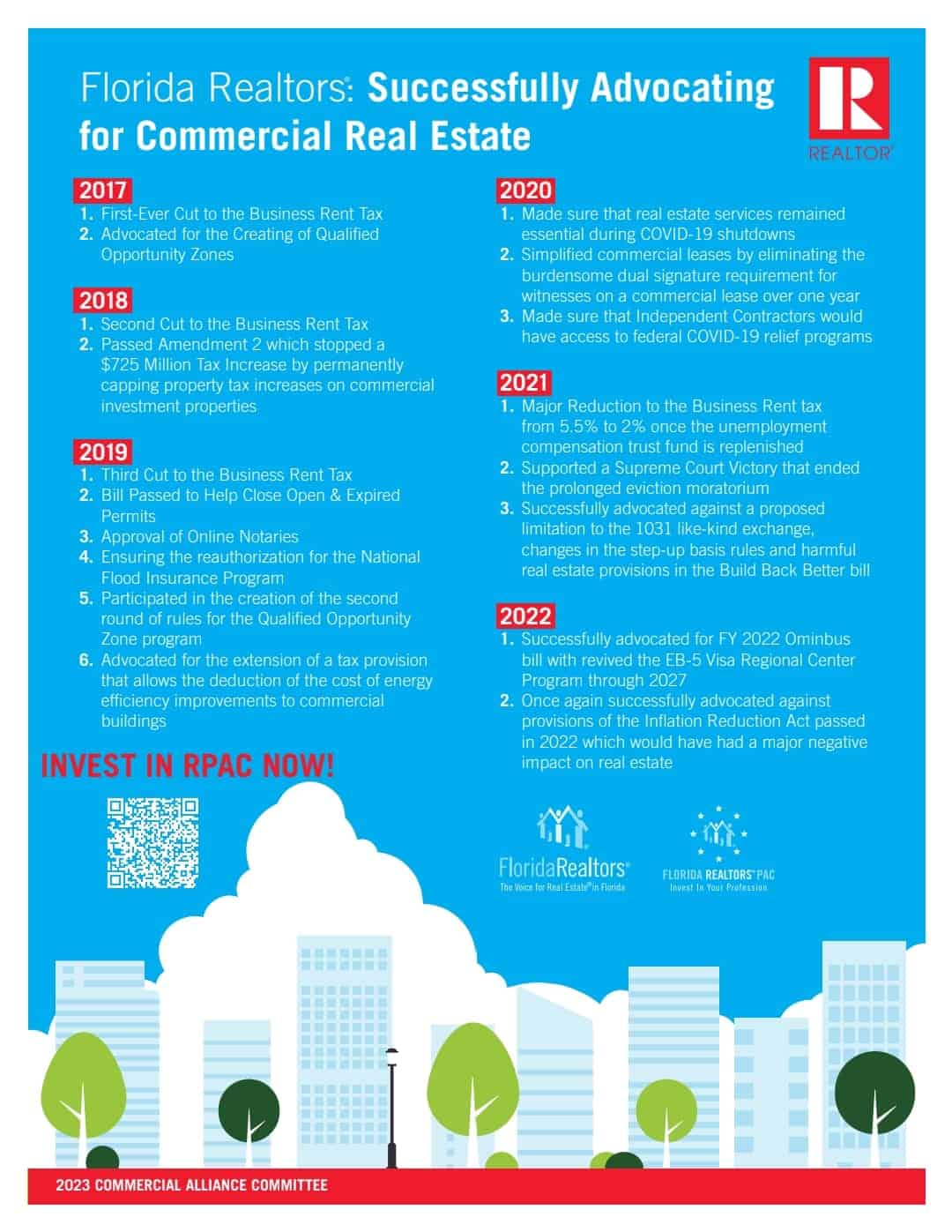 Recent Commercial REALTOR® Wins
Championing the passage of COVID-19 business liability protections for REALTORS®, protecting them from COVID-19-related lawsuits.
Ensuring real estate services were classified as "essential" during COVID-19 lockdowns, allowing business to continue safely while much of the economy came to a standstill.
Securing a MASSIVE cut to Florida's sales tax on commercial leases, known as the Business Rent Tax. The tax will be reduced from 5.5% to 2%, a historic $1.23 billion cut.
Ending the federal eviction moratorium that has threatened the livelihoods of countless housing providers.
Continued Lobbying for Commercial REALTORS®
Working with NAR to protect the Section 1031 Like-Kind Exchange, which is facing proposed reforms to limit its scope in Washington, D.C.
Continuing the effort to eliminate Florida's Business Rent Tax.
Ongoing monitoring of state and federal actions to ensure legislation does not pass that could negatively impact commercial REALTORS®.
Big Wins in the Past for Commercial REALTORS®
Passage of two commercial real estate lien acts ensured commercial brokers don't have to renegotiate their commissions at closing.
Repealed local business taxes, saving real estate associates $3.8 million annually.
Invest in the future of your profession!
INVEST IN RPAC
NOTE: You must be an NAR member (with an NRDS number) to donate.