Florida CCIM Chapter Gets National Endorsement While Gathering for Statewide Meetings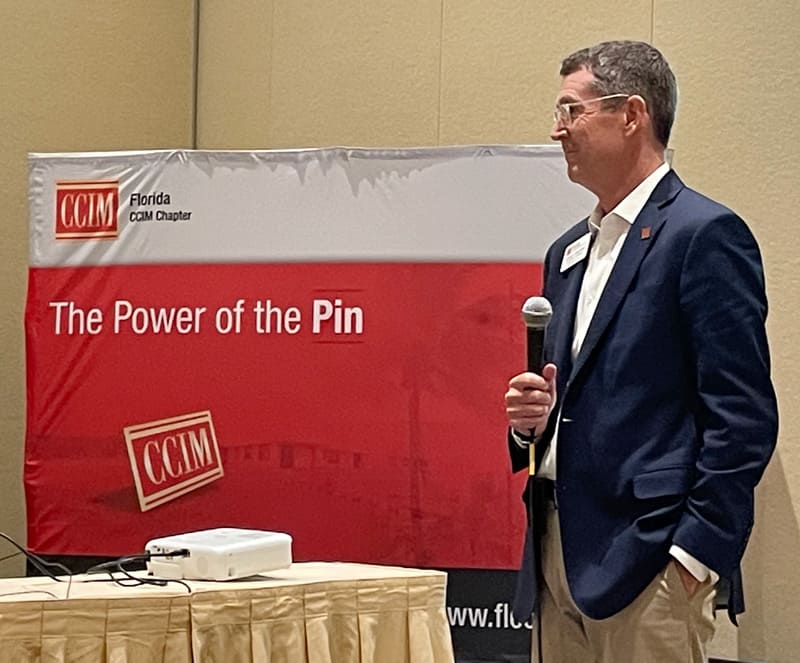 The Florida CCIM Chapter received a special endorsement from 2021 CCIM Institute President Tim Blair, CCIM, during their recent August statewide meetings. "Florida CCIM Rocks," exclaimed Blair after joining more than 35 industry leaders and participating in the Association's Board of Directors and General Membership Meeting.
Blair and others enjoyed networking and participating in-person with elected leaders from around the State of Florida's eight districts during the Chapter-wide event, held in conjunction with the Florida Realtors Conference at the Rosen Shingle Creek Resort in Orlando. Dozens of CCIMs joined the leaders and participated in the General Membership Meeting as well.
With a focus on inspiring Resiliency Together, FLCCIM Chapter and District Leaders shared education news, best practices, committee reports, budget review and more.  The statewide meetings included a Presidents' Report from a humble Jose Maria "Chepe" Serrano, CCIM who shared that he was thrilled to be meeting in person after more than a year of virtual meetings due to COVID 19.
Past Chapter Presidents shared recommendations for improvement.  Districts shared updates and goals for added membership value and improved in person experiences.  Reports were submitted by the Chapter's 8 District Presidents:
Broward/Ft. Lauderdale, Nicole Messer, CCIM
Central District, Hunter Strickland, CCIM
East Coast District, Aryeh Sehayik, CCIM
Miami District, Michael Hinton, CCIM
North District, Matthew Lehman, CCIM
Panhandle District, Gordon Maclean, CCIM
Southwest District, Artem Nashman, CCIM
West District, Jack Koehler, CCIM
During a unique question and answer session, President Blair shared insights on how The CCIM Institute is committed to cornerstones of Education, Training, Leadership and Networking, and how the CCIM designation intends to remain the gold standard for commercial real estate professionals, including appraisers, asset managers, brokers, developers, investors, lenders, and other allied professionals.
New to the event handing out bright red, black and white "Ask me about YPN" pins was the Chapter's YPN Committee lead by Britney Mroczkowski, CCIM who reported the following goals for the chapter's newest committee:
Engage those under the age of 40 in the commercial real estate industry to work together and grow the Florida CCIM Chapter and promote the CCIM designation.
Use funding from the Florida CCIM Chapter along with grants awarded from the CCIM Institute to plan events including in- person networking and industry events throughout the state.
Promote the YPN group online with a social media presence and create virtual events with leading industry speakers.
Unite the YPN members across the Florida CCIM Chapter's 8 districts as these members are the future leadership of our chapter.
Also detailed by President Elect Stephen Rigl, CCIM, and others during the meeting was the chapter's expanded media relations initiatives; renewed focus on and commitment to Designation Promotion for 2022 and more from the following Committee Chairs:
Candidate Development – William Wilson, CCIM
Membership – Theresa Blauch-Mitchell, CCIM
CRE Associations Liaison – Jorge Napoles, CCIM
Mentor/Mentee – Chris Cucci, CCIM
Communications – Veronica Malolos, CCIM
RPAC – Francisco Jaramillo, CCIM
Designation Promotion – Tony Puente, CCIM
Scholarship – Liz Menendez, CCIM for Barbara Monahan, CCIM
Florida Commercial Alliance – Bev Larson, CCIM
Social Events (TF) – Amy Calandrino, CCIM
Int'l Commercial Alliance (TF) – Keith Andrews, CCIM
Sponsorship – Michael Hinton, CCIM
Legislative – Claudette Bruck, CCIM
Technology – Joe Pelayo, CCIM
The Board of Directors ratified the election for 2022 Leadership as follows:
President – Stephen R. Rigl, CCIM
VP Operations – Liz Menendez, CCIM
VP Administration – Michael Hinton, CCIM
VP Finance – Artem Nashman, CCIM
VP Education – David Monroe, CCIM
Immediate Past-President – Jose "Chepe" Serrano, CCIM
Sponsors for the Chapter – Miami Realtors Commercial; RealNex and Wells Fargo joined the group at special receptions, a CCIM Dinner, fundraising for RPAC and more.
VIEW PHOTO GALLERY
About CCIM
"CCIM stands for Certified Commercial Investment Member. For more than 50 years, CCIMs have been recognized as leading experts in commercial investment real estate. The CCIM lapel pin denotes that the wearer has completed advanced coursework in financial and market analysis, and demonstrated extensive experience in the commercial real estate industry."