Florida CCIM Chapter Successfully Delivers PowerAide to Puerto Rico CCIM Chapter Members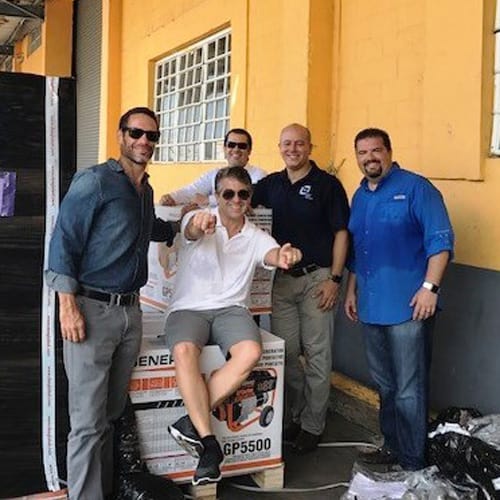 It was a short message, but one filled with hope and gratitude:
Oct. 30, 2017

Dear Scott & Chere,

MISSION ACCOMPLISHED!!!!

Today was a day full of emotion and good vibes. It was a pleasure to say hello to all our fellow Puerto Rico CCIMs and bring some comfort and hope thanks to your incredible gift. Attached some pics that I'm sure will bring a big smile to your faces. Please share them with the Florida Chapter membership and let them know that we're honored, humbled and grateful and will never forget this amazing gesture.

All the best,
Luis Rafael González, CCIM, CLS, CRX, President of Puerto Rico CCIM Chapter
The Florida CCIM Chapter launched "Operation PowerAide" to assist fellow Puerto Rico CCIMs on September 23. Just 10 days into the campaign, more than two-thirds of the funds needed have been pledged or donated. Beginning with a total fundraising goal of $30,000, Florida Chapter leadership was overwhelmed when the CCIM Institute announced a $15,000 contribution to the PowerAide efforts.
Bolstered by CCIM Institute generosity, the Florida CCIM Chapter pushed and successfully finished the fundraising portion of "Operation PowerAide" efforts to assist fellow CCIMs in Puerto Rico. Next they focused on transporting pallets of equipment to assist fellow CCIM members in their recovery. The shipment, which ended up being shipped by sea, includes 27 generators, as well as fuel stabilizer, oil, gloves, flashlight, batteries, chain, padlock and rope.
Working with Lloyd on PowerAide is Chere Roane, CCIM, District 8 CCIM Institute 2017 Regional Vice President. Roane, Florida Chapter Immediate Past President, is happy the island's chapter members have a bit more power today.
"It is one thing to be able to leave an area and go to a hotel or motel after or during a Hurricane, when there is no electricity or water, but this is an impossibility for the membership in Puerto Rico, "shares Roane, adding, "It is another to do without water, electricity for days as our members have done."

"The Generators are only a small part of what needs to be done to help our candidates and designees recover and rebuilt their lives on the island. This is a long term project and thanks to the Florida Chapter membership and The Institute, it was a small gesture to assist. We all feel their pain. The Puerto Rico Members are part of the larger CCIM Family, a family that works together for the better of all," Roane said.